FOOD PACKAGING & PROCESSING
MAKING THE BIGGEST IMPACT IN THE SMALLEST CORNERS
Whether you're processing and packaging fresh produce, cheese, vacuum-sealed meat, or another food product, you have a lot to consider. You need to choose food packaging that preserves freshness and presents your product beautifully. You can't afford to risk contamination, discoloration, or mold. We can help.
Fresh Technology for Food Packaging
JetAir's food packaging and processing systems are engineered to solve your problems and meet your needs. We leverage blowers and thoughtfully-designed air knives to shear water from hard-to-dry folds, dimples, creases, and organic imperfections at modern production speeds. Removing unwanted moisture protects all of your downstream operations. We're here to support your delivery of a fresh, quality product.
​
We don't just dry, either. JetAir systems can remove crumbs, fluff bags, clean conveyors, and more.
When a food packaging line has a problem, our engineers can tackle it with air. Why choose JetAir? We have the right expertise and the right equipment. Because our blowers are belt-free and centrifugal, they're the most compact and energy efficient air source on the market.
​
If you're looking for a way to improve quality and ramp up throughput, we're here.
​
How JetAir Can Help
​
Our systems can help optimize your pre-sorting cleaning, washing, inspection, coding, labeling, and secondary packaging applications. We aim to support your pursuit for quality at every process on your line. JetAir's equipment is designed to ensure the product you put in your customers' hands meets all of your standards and exceeds all of their expectations.
When you choose JetAir, you're choosing reliable drying and blow-off results, plus reduced maintenance and energy usage. If you'd like to see examples of our work in the food processing and packaging market, check out these case studies:
​
You put a lot of work into delivering your customer the freshest, most beautiful product possible. Our efficient, easy-to-use systems can help you do exactly that – every time.
Click Below to Expand
How Our Tunnels Work
---
The JetTunnel™ is powered by JetAir's high-speed centrifugal blowers, which deliver clean, oil-free, filtered air to remove unwanted moisture and debris. The JetTunnel™ is custom designed to handle the widest range of containers and line speeds up to 120,000 cph. It easily integrates into existing packaging lines and all plant control networks. Standard and custom systems are available.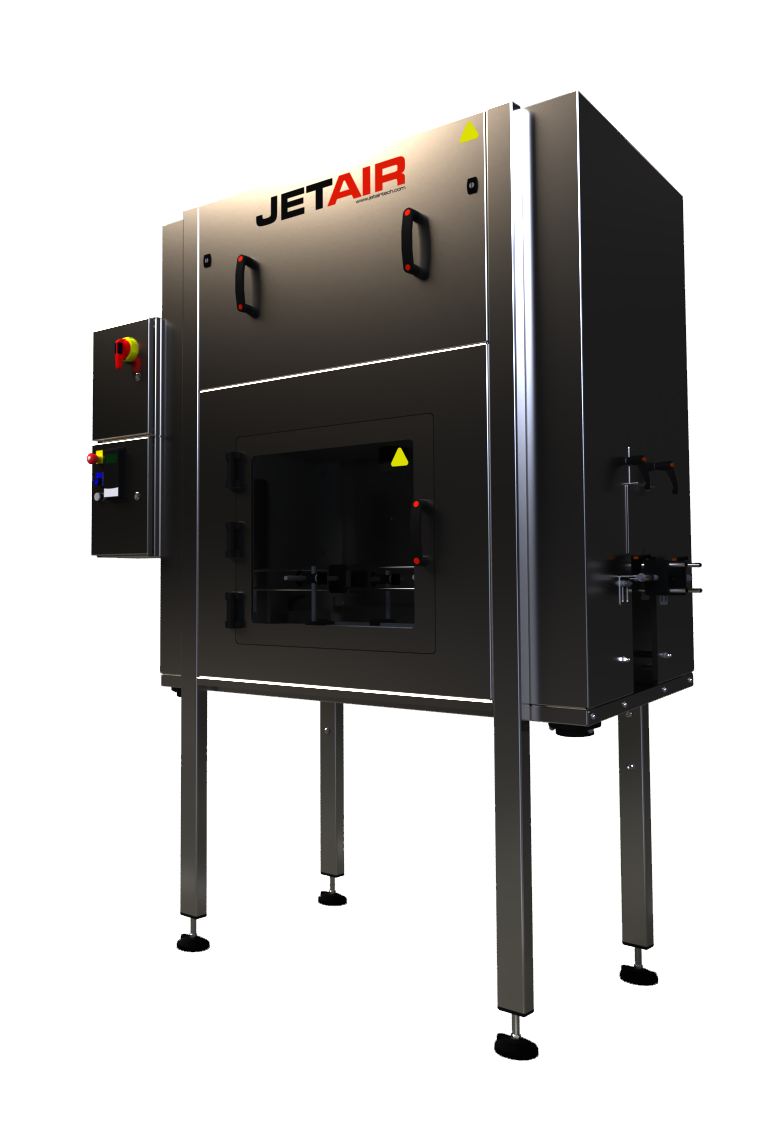 ---
Drying
---
Labeling – sleeve, paper, pressure sensitive, etc. Coding Inspection Post-pasteurizer processes Sleeving Secondary packaging
---
Ionized Air Rinse
---
Dust & debris removal Glass shard removal Conveyor Cleaning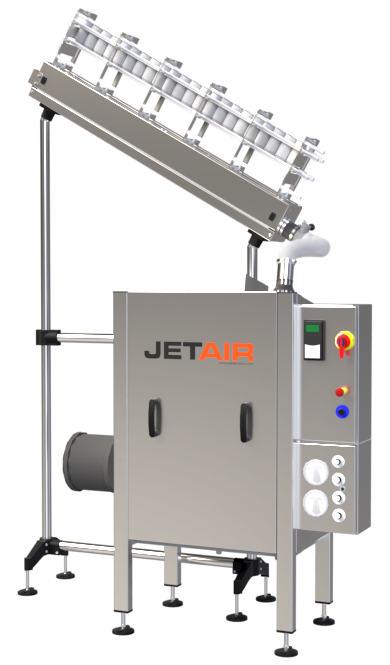 ---
Speeds
---
20'[7M]-100'[48M] / minute
---
Other Applications
---
Oil cutting Bag fluffing Smooth and cure coatings Product moving
---
---
FOOD PACKAGING & PROCESSING
COMPRESSED AIR / WATER SAVINGS
PHARMACEUTICAL & ELECTRONIC
MAIN OFFICE
JetAir Technologies LLC
1756 Eastman Ave. Suite 100
Ventura, California
93003, USA