INCREASING PERFORMANCE, REDUCING CONSUMPTION
JetAir's industrial systems are used in a wide range of processes for rinsing, drying, and blowing off applications. Why? Our high-speed centrifugal blowers produce the precise combination of air flowrate and pressure levels needed to shear water from surfaces; remove machining chips, process oils, and debris; smooth coatings; and cool materials. Targeted industrial dryer and rinse systems aid in the cleaning of parts prior to, in-between, and post processing.
The Right Industrial Dryer and Rinser
All JetAir systems are engineered and manufactured to uphold in demanding environments like foundries, mills, and other manufacturing plants. We have the most compact, energy-efficient, and sturdy blower on the market. Unlike belted blowers, our JET-Series blowers couple the impeller directly with the motor shaft. That means we're completely belt-free. In other words, we've eliminated the maintenance headache that comes with belt breakage and changeover. Fewer pinch points. Fewer hassles. All with better efficiency and better drying or blow-off performance.
When you need to get your product ready for the next step of your industrial process, our drying, blow-off, and rinsing solutions are ideal for your manufacturing environment and here to help.
​
Customized to Meet Your Needs
​
JetAir knows that your production process is unlike any other. We have experience blowing debris clear, controlling coating thickness, blast watering from engine blocks,cleaning machined parts, and more. When you come to us, we put our expertise behind you. JetAir Application Engineers are adept at creating custom, engineered-to-order systems for unique production lines and OEM customers. We can help your industrial manufacturing processes run reliably and efficiently.
Whether you're dealing with tiny crevices or huge parts, our team can help. We engineer and manufacturing drying and blow-off systems that can fit in your available line space and integrate easily into your plant control network. If water, fluids, or debris are causing problems in your production process, we can help. Our team is full of experts in leveraging air to optimize industrial production.
​
Our Innovative High-Speed Direct-Drive Blower Technology reduces spare parts, simplifies maintenance and minimizes safety hazards. Further, we manufacture the widest range of air components and air knives. Our wide range of air knives and nozzle solutions give you more tools to optimize your application for kW use, changeover and cleaning needs.
​
JetAir has developed many Engineered-to-Order (ETO) Solutions For unique production lines and OEM Customers.
​
Click Below to Expand
How Our Tunnels Work
---
The JetTunnel™ is powered by JetAir's high-speed centrifugal blowers, which deliver clean, oil-free, filtered air to remove unwanted moisture and debris. The JetTunnel™ is custom designed to handle the widest range of containers and line speeds up to 120,000 cph. It easily integrates into existing packaging lines and all plant control networks. Standard and custom systems are available.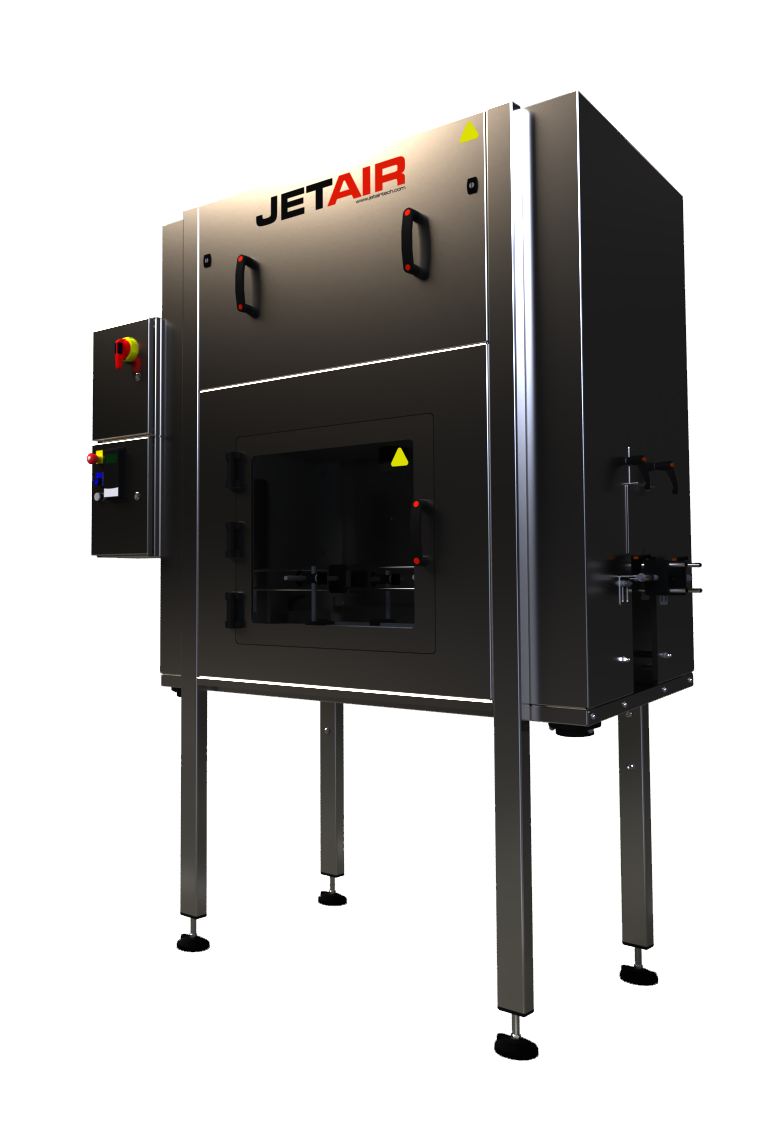 ---
Can, Jar & Bottle Drying
---
Labeling – sleeve, paper, pressure sensitive, etc. Coding Inspection Post-pasteurizer processes Sleeving Cap & crown moisture removal Safety seal Secondary packaging
---
Can, Jar & Bottle Ionized Air RInse
---
Dust & debris removal Glass shard removal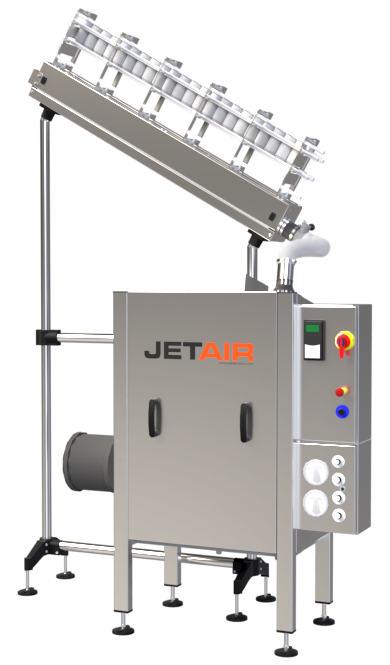 ---
Additional Features Available
---
Water rinse Corner solution Clean in Place Integrated conveyor
---
Speeds
---
Bottles: 60-2400 bpm Cans: 60-2800 cpm
---
Containers
---
Glass PET PP Metal Pails, barrels, & jugs
---
---
MAIN OFFICE
JetAir Technologies LLC
1756 Eastman Ave. Suite 100
Ventura, California
93003, USA