PHARMACEUTICAL & ELECTRICAL
MATCHING YOUR PRECISION & RELIABILITY
JetAir's drying, blow-off, and water rinse systems shear water and remove debris from complex fabrications and intricate packaging. JetAir solutions include debris removal, de-ionization, inspection, coding, labeling, and conveying applications. We also offer pharmaceutical dryers for tanks and blenders that take drying times from 8+ hours to 30 minutes.
The Accuracy You Need
​
JetAir is adept at integrating monitors and sensors to ensure reliable consistency. We know the value you place on precision and reliability, and we will match your standards. We understand your clean room environment, so we don't add the unwanted pollutants found in compressed air or belt-driven blower sources. We work with your specification for a controlled environment to achieve optimal results with clean, dry air. HEPA filtration is always available and ULPA applications can be engineered as required.
​
High-efficiency Pharmaceutical Dryers
​
JetAir's innovative systems maximize efficiency and reliability. We leverage centrifugal blowers to deliver the cleanest, most compact air stream for your applications. Both compressed air and belted blowers introduce contaminants into your air stream. Compressed air relies on a lubricant, while the friction from belted blowers creates particulate. At JetAir, we keep your air stream clean by directly coupling the impeller and the motor shaft. Fewer moving parts doesn't just meet your filtration specifications, either. It also means higher energy efficiency and fewer maintenance headaches.
​
Our goal is to increase your process efficiency. To that end, we developed the PharmaDry. This compact, portable dryer can dry blenders and tanks up to 2,300 gallons (150 cu. ft.) in just 30 minutes. The PharmaDry also features hand attachments so you can use its powerful air stream for drying parts, walls, and entire cleanrooms. If you're waiting for equipment to air dry, we can help you slash your downtime.
​
We know your process is precisely measured, so we carefully engineer each system for your specific application. JetAir is here for all of your pharmaceutical and electronic drying, blow-off, and rinsing needs.
Click Below to Expand
How Our Tunnels Work
---
The JetTunnel™ is powered by JetAir's high-speed centrifugal blowers, which deliver clean, oil-free, filtered air to remove unwanted moisture and debris. The JetTunnel™ is custom designed to handle the widest range of containers and line speeds up to 120,000 cph. It easily integrates into existing packaging lines and all plant control networks. Standard and custom systems are available.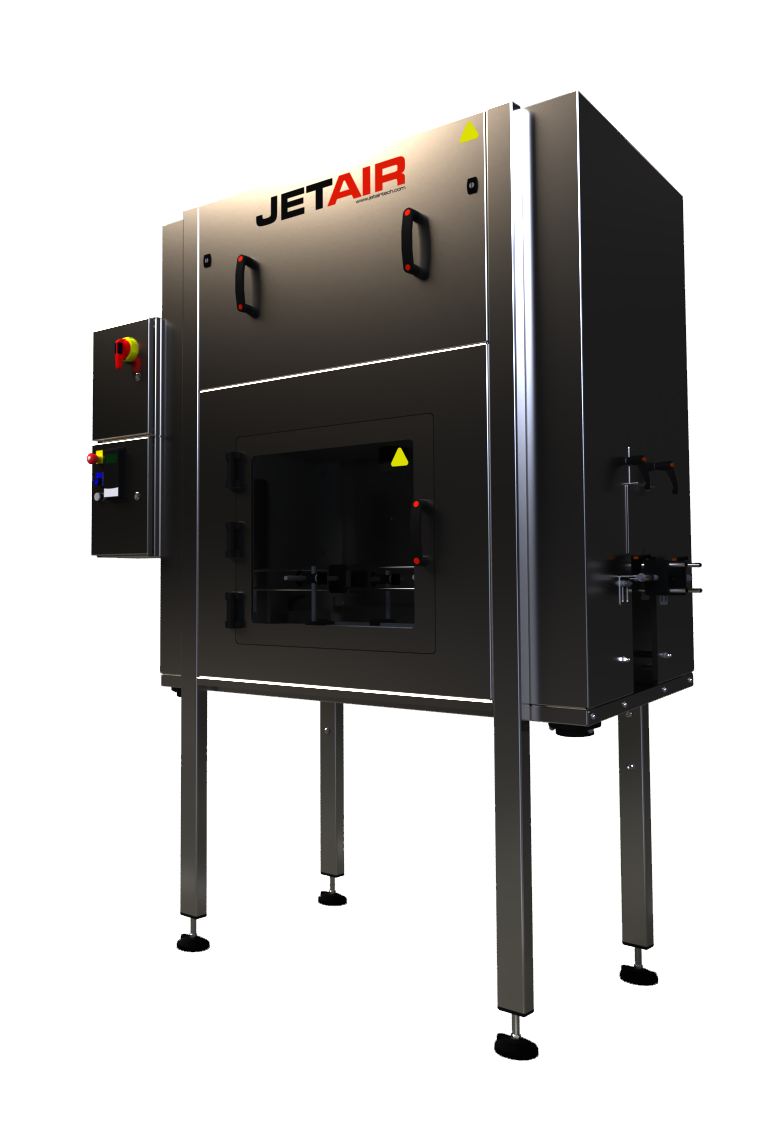 ---
Can, Jar & Bottle Drying
---
Labeling – sleeve, paper, pressure sensitive, etc. Coding Inspection Post-pasteurizer processes Sleeving Cap & crown moisture removal Safety seal Secondary packaging
---
Can, Jar & Bottle Ionized Air RInse
---
Dust & debris removal Glass shard removal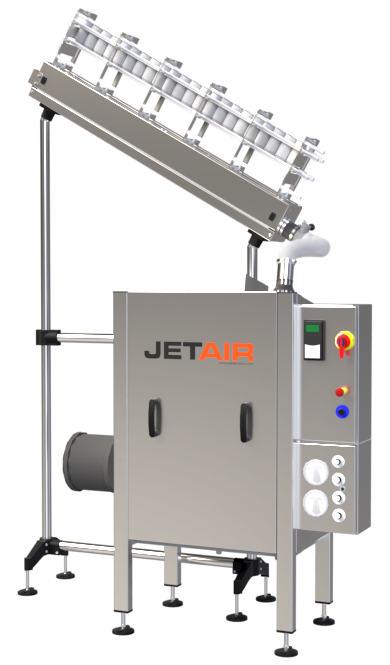 ---
Additional Features Available
---
Water rinse Corner solution Clean in Place Integrated conveyor
---
Speeds
---
Bottles: 60-2400 bpm Cans: 60-2800 cpm
---
Containers
---
Glass PET PP Metal Pails, barrels, & jugs
---
---
FOOD PACKAGING & PROCESSING
COMPRESSED AIR / WATER SAVINGS
PHARMACEUTICAL & ELECTRONIC
MAIN OFFICE
JetAir Technologies LLC
1756 Eastman Ave. Suite 100
Ventura, California
93003, USA