JetAir Jet-Series blowers have the highest efficiencies and power densities of any high-speed centrifugal blower available. Replace your compressed air equipment with our high-efficiency blowers to slash your electrical consumption.
Compressed Air Equipment vs. Efficiency & Innovation
​
Years ago, we realized that plant air was inefficient and expensive. The Department of Energy agrees. They recommend replacing compressed air wherever possible.
​
JetAir wanted to bring a better air source alternative to the market. We were the first to develop and apply belt-free technology to high-speed centrifugal blowers - and we haven't stopped innovating since.
​
By directly coupling modern impeller designs with high-speed motors and integrating variable frequency drives, we are able to:
Reduce compressed air electrical consumption by 70%.

Eliminate belts, tensioning devices, and complex spindles.

Increase reliability.

Reduce blower system size by 30%.
​
Save Water With Air
​
If you have a water rinse somewhere on your line, we can help you further reduce your consumption. Replacing water rinse with our ionized air rinse can save you thousands of gallons of water a week. Over the course of a year, JetAir systems can significantly shrink your facility's usage of resources. Not only does this grow your environmental friendliness, it also grows your bottom line.
Our innovative systems can save you thousands of dollars and often pay for themselves.
Making life easier on your line.
​
JetAir's systems are high efficiency with low maintenance requirements. Because our blowers don't rely on belts, belt breakage is never a concern. Your maintenance technicians will never have to deal with the headache of trying to get the right belt tension or worry about the various pinch points that come with belted blowers. Maintenance on JetAir blowers is quick and easy.
​
Additionally, because we've eliminated belts, we've shrunk our footprint. JetAir's blowers are extremely compact, designed to fit virtually anywhere on your line.
​
We deliver high-efficiency, low-hassle air right where you need it. We're here so you can save money, time, and resources.
Click Below to Expand
How Our Tunnels Work
---
The JetTunnel™ is powered by JetAir's high-speed centrifugal blowers, which deliver clean, oil-free, filtered air to remove unwanted moisture and debris. The JetTunnel™ is custom designed to handle the widest range of containers and line speeds up to 120,000 cph. It easily integrates into existing packaging lines and all plant control networks. Standard and custom systems are available.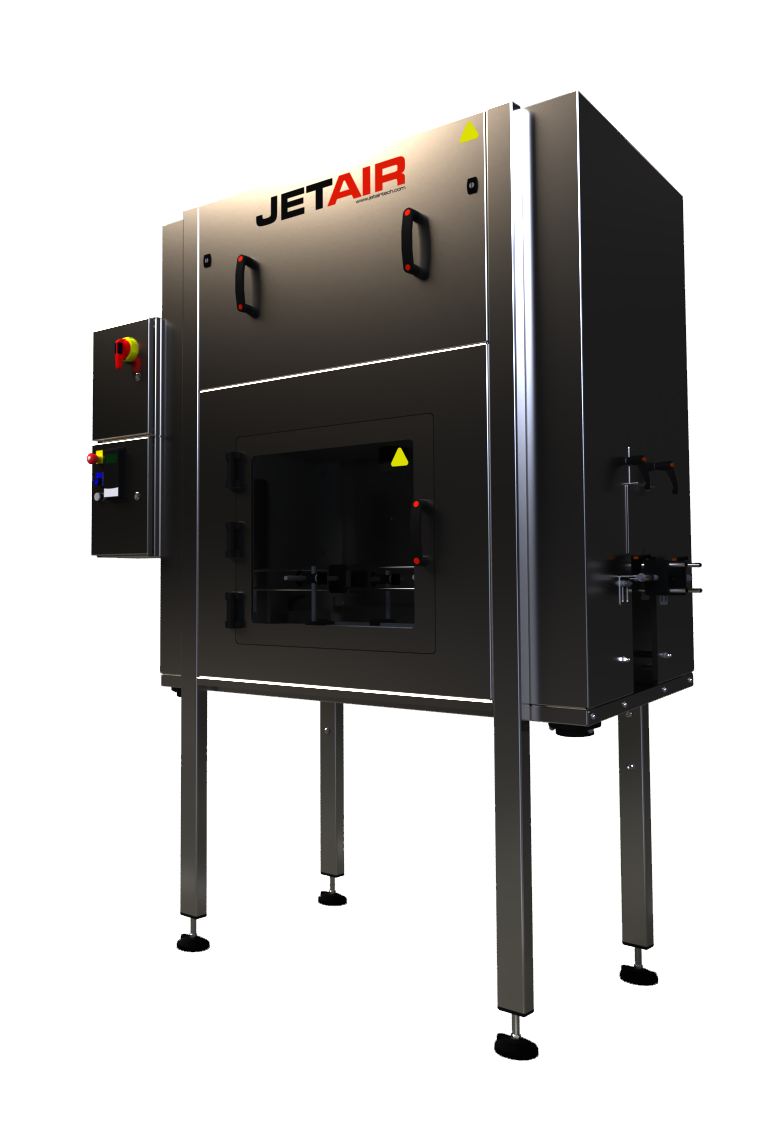 ---
Can, Jar & Bottle Drying
---
Labeling – sleeve, paper, pressure sensitive, etc. Coding Inspection Post-pasteurizer processes Sleeving Cap & crown moisture removal Safety seal Secondary packaging
---
Can, Jar & Bottle Ionized Air RInse
---
Dust & debris removal Glass shard removal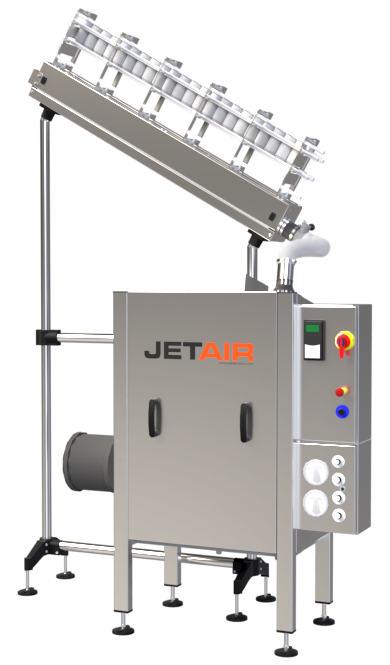 ---
Additional Features Available
---
Water rinse Corner solution Clean in Place Integrated conveyor
---
Speeds
---
Bottles: 60-2400 bpm Cans: 60-2800 cpm
---
Containers
---
Glass PET PP Metal Pails, barrels, & jugs
---
---
FOOD PACKAGING & PROCESSING
COMPRESSED AIR / WATER SAVINGS
PHARMACEUTICAL & ELECTRONIC