WATERLESS RINSING WITH IONIZED AIR
Did you know you can rinse your product free of particulate or glass shards without using water?
By connecting our aerodynamically advanced air knives to an air ionizer, we can create an air stream that eliminates static and other cling. Blasting that air stream into a container or onto a product clears it of residual debris, including but not limited to plant dust and glass shards, leaving a pristine product ready for the next step of the process.
Replace your water rinse with an air rinse for lower production costs and improved sustainability.
Save Water & Money
If you're still washing money down the drain with a water rinse system, consider switching to an ionized air rinse.
Thanks to ionization, an air rinse can be just as effective as a water rinse. Ionized air eliminates static, ensuring cling doesn't keep debris in containers or on products. When hooked up to the right air knives and energy efficient blower, containers can be cleaned with air prior to filling.
​
Some benefits of the air rinse system include:
​
More Savings. Significantly reduce water usage. Moving away from water rinsing saves hundreds of gallons an hour.

Faster Production. Ion air rinsing completely eliminates time spent waiting for the product to dry post-rinse.

More Line Flexibility. Our ION3 air rinse system can process containers with openings as small as 28mm at speeds as fast as 90,000 cph.

Cleaner Product. How sanitary is your water rinse? Our ionized air is triple-pass HEPA filtered. In short, it's extremely clean.
If you want to save water and minimize utility costs, switching from a water rinse to an air rinse is an ideal solution.
​
Stop Washing Money Down the Drain
​
Moving away from a water rinse saves your production facility money and makes it more sustainable. It can also make it safer by eliminating moisture on the floor. Our ion rinse equipment comes stocked with safety features including a pressure relief safety valve and interlocked access to the ion bar. The entire thing is washdown ready and designed to be easy to install and easy to maintain.
For more information about our ionized air rinser, check out this article exploring how the system saved one customer thousands each year.
Click Below to Expand
How Our Tunnels Work
---
The JetTunnel™ is powered by JetAir's high-speed centrifugal blowers, which deliver clean, oil-free, filtered air to remove unwanted moisture and debris. The JetTunnel™ is custom designed to handle the widest range of containers and line speeds up to 120,000 cph. It easily integrates into existing packaging lines and all plant control networks. Standard and custom systems are available.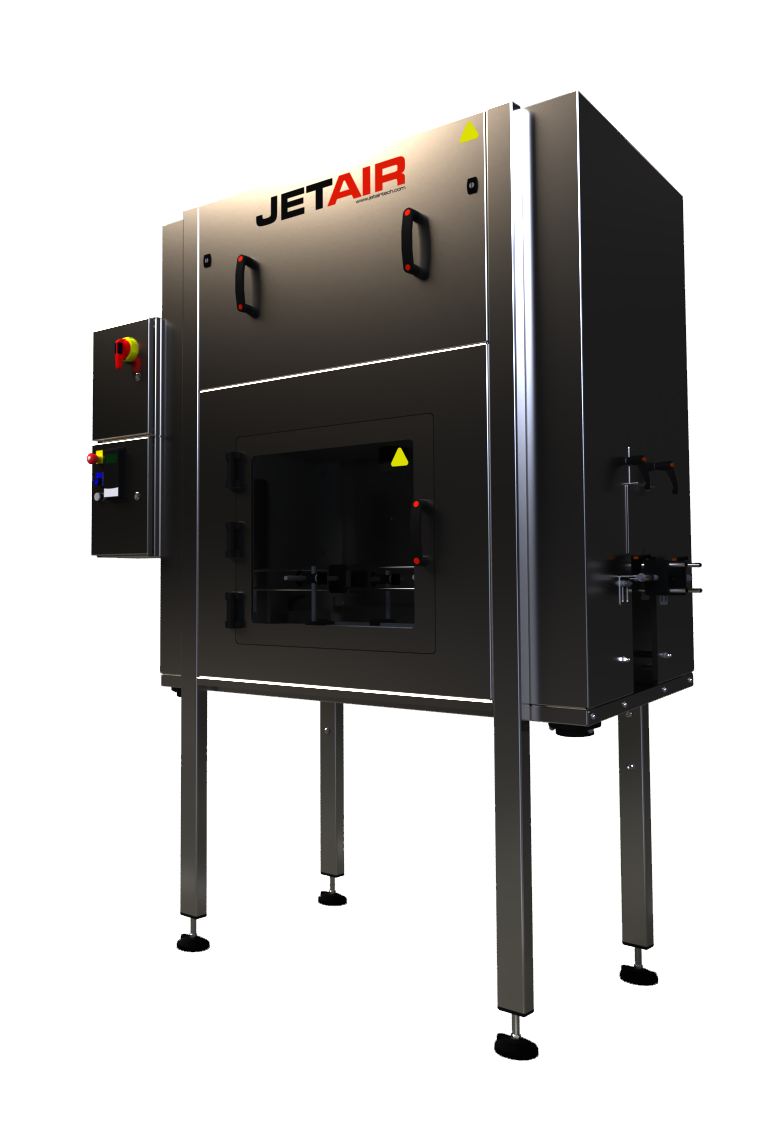 ---
Ionized Air Rinse Uses
---
Dust & debris removal Powder removal Glass shard removal
---
Can, Jar & Bottle Ionized Air Rinse
---
Dust & debris removal Glass shard removal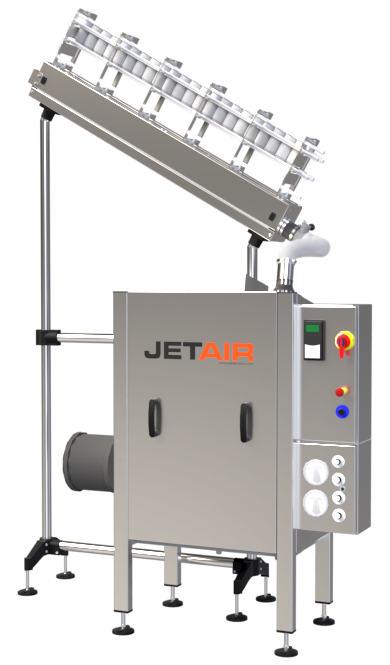 ---
Additional Features Available
---
HEPA-filtration Container hold-down Integrated line control Product detection sensor
---
Speeds
---
Containers with openings as small as 28mm up to 90,000 cph
---
Product Materials
---
Glass PET PP Metal Pails, barrels, & jugs
---
---
MAIN OFFICE
JetAir Technologies LLC
1756 Eastman Ave. Suite 100
Ventura, California
93003, USA