FLEXIBLE PACKAGING DRYING: GUSSETS, FOLDS

AND LIDS

.

AT

..

HIGH-SPEED
Flexible packaging is the future, and we have the innovative solutions it requires. JetAir's drying and wash systems solve the problems facing companies who package in pouches, cartons, and trays.
​
Solid Solutions for Flexible Packaging
​
We can get water out of even the smallest gussets using our high-efficiency blowers and air knives. When paired with our dynamic container control, our blower-based solutions dry hard-to-reach areas effectively and reliably. Whether you're working with tiny pouches or large sheets of film, we can ready your product to the next process in your line.
How Do We Do It?
​
We've engineered material handling solutions that address the pain points of flexible packaging. Our systems deliver exactly what you need, hiccup and headache-free. Maybe you need to clear gussets of water before secondary packaging. Maybe you need to eliminate static cling on plastic film to clear away debris. We have the most effective, energy-efficient technology.
JetAir's dry and air rinse solutions get their air from our belt-free centrifugal blower. That means you get a clean air stream at a fraction of the energy costs of compressed air. JetAir can prepare your flexible packaging for filling, inspection, coding, labeling, sleeving, and secondary packaging, all at high speeds.
More Benefits, More Ease
​
Our innovative systems address the specific challenges you face. We're committed to maximizing energy efficiency, changeover speed, and ease of cleaning. We can custom-build a system with in-line single file or mass flow configuration, tailored to your specific packaging and line speed. Our systems are easy to install, easy to integrate to your existing plant control network, and easy to maintain. At JetAir, our goal is to ensure quality in your secondary packaging.
Want to learn more about our flexible packaging capabilities? This case study is a great place to start.
You're an innovator choosing the latest packaging solutions. Let us empower your flexible packaging line with our innovative technology.
Click Below to Expand
How Our Tunnels Work
---
The JetTunnel™ is powered by JetAir's high-speed centrifugal blowers, which deliver clean, oil-free, filtered air to remove unwanted moisture and debris. The JetTunnel™ is custom designed to handle the widest range of containers and line speeds up to 120,000 cph. It easily integrates into existing packaging lines and all plant control networks. Standard and custom systems are available.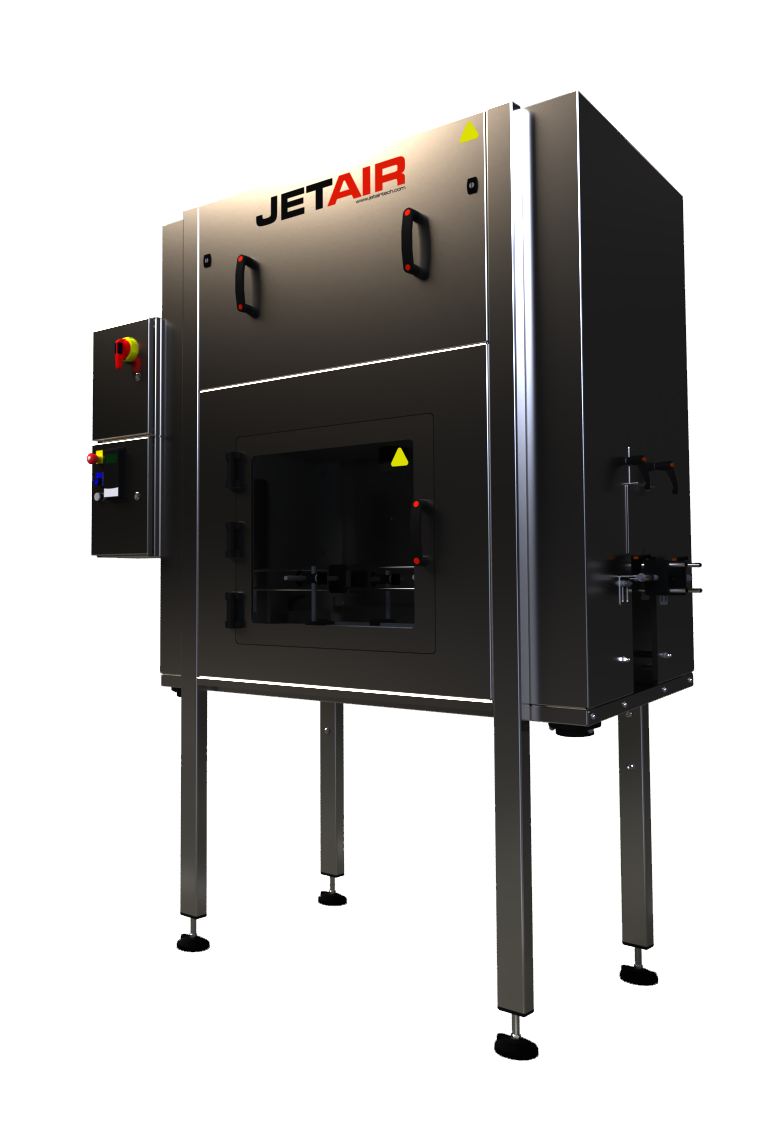 ---
Ionized Air Rinse Uses
---
Dust & debris removal Powder removal Glass shard removal
---
Can, Jar & Bottle Ionized Air Rinse
---
Dust & debris removal Glass shard removal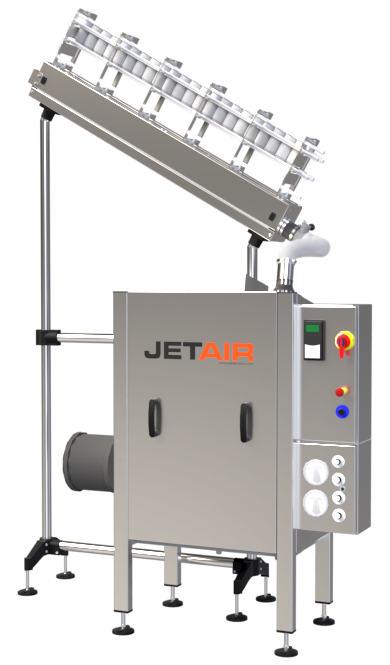 ---
Additional Features Available
---
HEPA-filtration Container hold-down Integrated line control Product detection sensor
---
Speeds
---
Containers with openings as small as 28mm up to 90,000 cph
---
Product Materials
---
Glass PET PP Metal Pails, barrels, & jugs
---
---
FOOD PACKAGING & PROCESSING
COMPRESSED AIR / WATER SAVINGS
PHARMACEUTICAL & ELECTRONIC
MAIN OFFICE
JetAir Technologies LLC
1756 Eastman Ave. Suite 100
Ventura, California
93003, USA