POWERFUL, PERMANENT POWDER REMOVAL
Powder is tricky. It clings. Then, even when you think you're rid of it, it reappears. We know that complete and permanent powder removal can feel like a frustrating goal. That's why we've developed blow-off, ionized air rinsing, and vacuum solutions that can be customized to meet your specific powder or dust removal need. Whether you need to clear small particles from a tiny corner, a staticky surface, or a wide sheet, we have the right equipment for your application.
Solving the Big Problem of Tiny Particles
We've dedicated our engineering team to solving the unique challenges of powder removal, like static cling and thorough particle collection. We can integrate a deionizer to help even the smallest particles separate from your product's surface.
​
Plus, our blower-based solutions are energy and space efficient. We don't think you should have to use large amounts of line space or resources to collect such small particles. JetAir's powder removal systems are powered by belt-free, centrifugal blowers. Because we eliminate the need for compressed air, we can help you significantly shrink your plant's energy consumption. We regularly help our customers save thousands each year.
​
Integrated Blow-off and Collection
​
The problem with fine particles is that they tend to hang in the air after blow-off. Given the opportunity, they'll resettle on your product. We won't let that happen. JetAir has engineered blow-off tunnels that keep all fine particles contained. We can also integrate a vacuum collection system so you can rest easy knowing exactly where that unwanted powder, dust, or debris will end up.
​
Our high-efficiency blowers and air knives can get the tiniest particles out of the smallest cracks and crevices. Whether you're struggling to pull powder from a tight corner or dust from below a crown, we have a solution for you. Let us blow your small particle troubles away.
Click Below to Expand
How Our Tunnels Work
---
The JetTunnel™ is powered by JetAir's high-speed centrifugal blowers, which deliver clean, oil-free, filtered air to remove unwanted moisture and debris. The JetTunnel™ is custom designed to handle the widest range of containers and line speeds up to 120,000 cph. It easily integrates into existing packaging lines and all plant control networks. Standard and custom systems are available.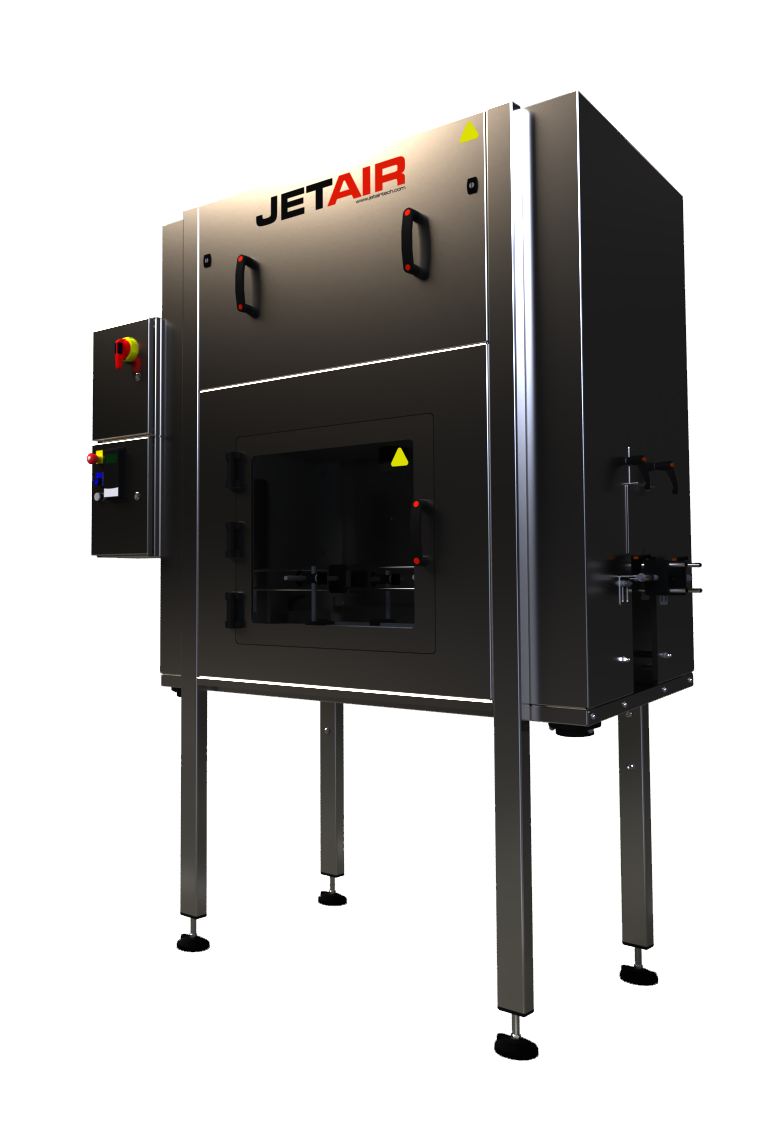 ---
Can, Jar & Bottle Drying
---
Labeling – sleeve, paper, pressure sensitive, etc. Coding Inspection Post-pasteurizer processes Sleeving Cap & crown moisture removal Safety seal Secondary packaging
---
Can, Jar & Bottle Ionized Air RInse
---
Dust & debris removal Glass shard removal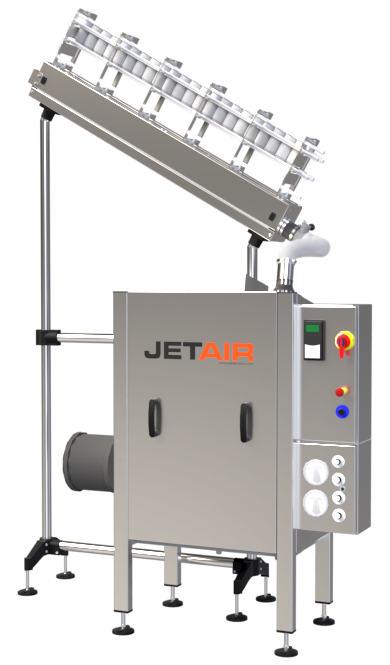 ---
Additional Features Available
---
Water rinse Corner solution Clean in Place Integrated conveyor
---
Speeds
---
Bottles: 60-2400 bpm Cans: 60-2800 cpm
---
Containers
---
Glass PET PP Metal Pails, barrels, & jugs
---
---
FOOD PACKAGING & PROCESSING
COMPRESSED AIR / WATER SAVINGS
PHARMACEUTICAL & ELECTRONIC
MAIN OFFICE
JetAir Technologies LLC
1756 Eastman Ave. Suite 100
Ventura, California
93003, USA